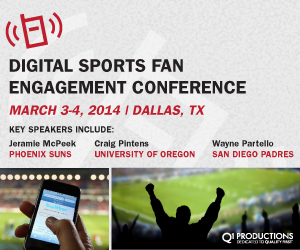 Q1 Productions will be hosting the Digital Sports Fan Engagement Conference on March 3&4 and we want to send you there!
The social media and digital space provides a valuable opportunity for sports organizations can continuously communicate with fans, measure the success of marketing efforts, incorporate partners for increased revenue and ultimately bridge the gap between fans and players to make consumers truly feel part of the team. The use of digital and mobile technologies is on the rise, and sports organizations must leverage these technologies in creating a personalized experience for avid fans and attracting casual fans to interact at a higher level. Engaging sports fans through digital media has become an essential strategy for marketing executives to increase interaction and influence this key stakeholder.
Q1's Digital Sports Fan Engagement program will meld formal industry-led presentations and discussions along with client case study presentations from innovative marketing agencies and digital media experts and short product demonstrations to provide participants with the greatest possible learning opportunity. With interactive sessions, ample networking opportunities and lively discussions, attendees will surely walk away with strategies that can be immediately implemented for digital engagement of sports fans.
Date: March 3-4, 2014
Location: Dallas, TX
Time: 7:00 am – 7:00 pm Monday; 7:30 am – 5:15 pm Tuesday
Tickets: 2 Media Passes
Value: $795
You can learn more about the Digital Sports Fan Engagement Conference here
Want One Of These Tickets?
As a valued SEA member, you have equal opportunity to express interest in attending this conference.
If you are interested in these tickets, please leave a comment below by April 25, 2014 @ 11pm EST.
You should also tell us why you think you should be the one to go. We will  randomly draw a winner from those who enter and notify the winner(s) via the email address associated with your SEA membership.